Wednesday, 31 December 2014 | Charlie Hughes, Founder & Holistic Therapist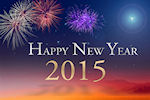 As I write this and reflect on the past year for Sophia's Choice, I am filled with immense gratitude for what 2014 has brought.
I have thoroughly enjoyed being able to connect with so many of our lovely customers, whether that be in person at Fairs such as the Bournemouth Vegan Fair or on social media via Twitter and Facebook. Every interaction is important to me. We have never been a faceless business and that will always be our focus.