Competitions
Christmas Competition Giveaway

13 Comments

Thursday, 12 December 2013 |

Charlie Hughes, Founder & Holistic Therapist
Christmas Competition Giveaway 2013
Only twelve more days to go before we once again spend some quality time with family and friends for Christmas.
It always amazes me just how quickly the latter part of the year passes by and for us here at Sophia's Choice HQ, its all been about launching the shop and getting the word out that we are now here. As we head towards 2014, it all feels very exciting and we're looking forward to what the coming year will bring.
To get us into the Christmas spirit we have been running a couple of Christmas Competition Giveaways on our Facebook page and also on Twitter but thought it would be more fitting to run our last one here on our shop blog so that more of you get the chance to enter.
We are giving away a lovely selection of goodies for the ladies this time. We have run a competition for the kiddies, the teenagers and now it's the turn of the ladies. Gents I promise we will at some stage run a competition for you too, but for now you can enter on behalf of the lovely females in your life.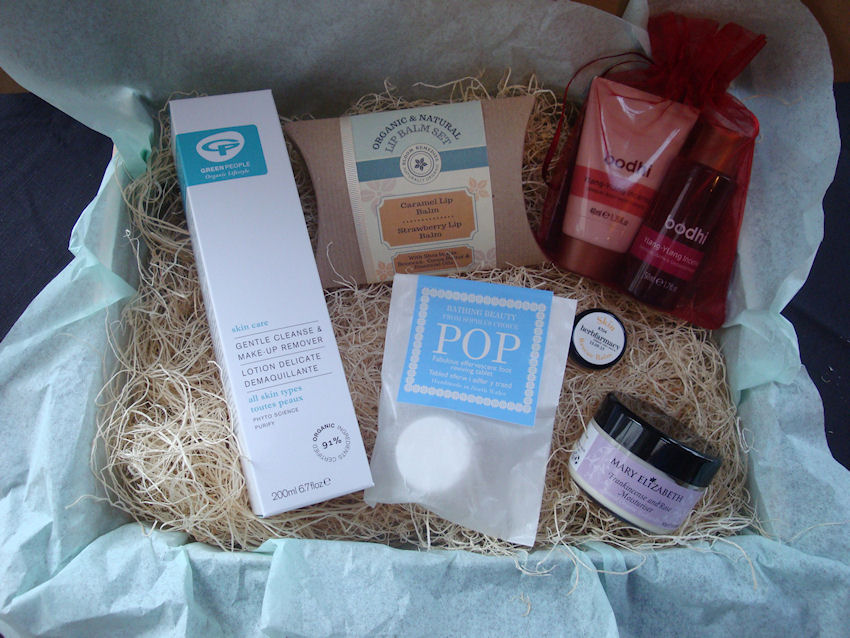 Our Bespoke Christmas Giveaway Box includes:
1 x Green People Gentle Cleanse & Make-Up Remover - 200ml (Vegan)
1 x Mary Elizabeth Frankincense & Rose Moisturiser - 50g (Vegan)
1 x Bodhi Ylang-Ylang Duet Pouch (includes 50ml Bath & Shower Therapy and 40ml Body Moisturiser) (Vegan)
1 x Bloom Remedies Lip Balm Set (includes 1 caramel and 1 strawberry lip balm)
1 x Bathing Beauty POP Effervescent Foot Reviving Tablet (Vegan)
1 x Herbfarmacy Skin Rescue Balm (Tester Size)
All the above goodies total in excess of £60, so this really is a competition worth entering.
The competition will run until midnight on Christmas Eve (24th December 2013) and is open to UK residents only. The winner will be announced here on this blog, on Twitter and on our Facebook page by 27th December and the winner will be informed via email.
To be in with a chance of winning all you need to do is enter using the Rafflecopter link below. The more entries you complete, the more chances you have of winning. Some entries you can do each day. If you have any questions, then don't hesitate to contact us.
Good Luck x
THIS COMPETITION IS NOW CLOSED.