Boutique News
SkinsMatter FreeFrom Skin Care Awards 2015 – Our Winners

Saturday, 11 July 2015 | Charlie Hughes, Founder & Holistic Therapist
The SkinsMatter FreeFrom Skin Care Awards are into their 4th year and we proudly stock many brands here at Sophia's Choice who have won some of their respected awards.
"The Awards, run by Skins Matter, in association with Ultimate Natural Beauty Bible and the Allergy & Free From Show, seek out the best in 'free from' skincare, by manufacturers who create cosmetic products without the use of some of the key allergens, artificial compounds and other problematic or undesirable ingredients which many seek to avoid."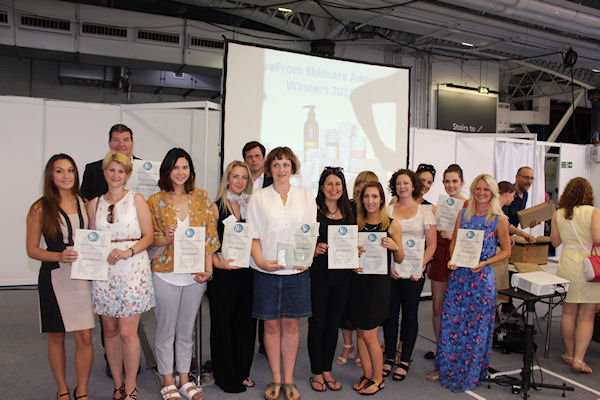 Image courtesy of SkinsMatter FreeFrom Awards 2015
Each accepted entry into the awards is submitted to 6 experienced Beauty Bible testers to undergo a month of rigorous testing. The testing period ends in a shortlist of products for each of the 13 categories which then go on to be judged further in the hope that they will win one of the 3 awards; gold, silver and bronze on offer in each category.
I sadly wasn't able to make the awards ceremony this year which takes place at the Love Natural Love Organic & The Allergy Show. However, I was exceptionally proud to see that once again many of the brands we stock took home an award and a couple won their very first award too – yay!
So who were our winners on the day?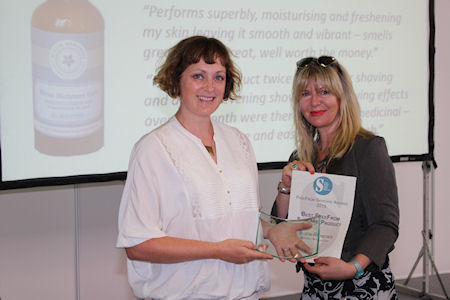 Image courtesy of SkinsMatter FreeFrom Awards 2015
Bloom Remedies have had an amazing few years picking up some great awards for their wonderful products and this year is no exception. As well as winning Gold for their Daily Revive Moisturiser with the Green Parent Awards, Marie took home Gold for her Men's Daily Moisturiser in the Men's Grooming category and to top it all won the overall Best FreeFrom Skin Care Product 2015 ! Wow, Marie must be walking on air.
Both Lyonsleaf and Beeutiful won an award in the Problem Skin category this year. It was a first for Beeutiful with a Bronze for their B-Balm. This is a fabulous all round balm and has had amazing results on all sorts of skin conditions. And Lyonsleaf also took Bronze for their Calendula Cream. Again, a great multi-tasker with fabulous results on troubled skin conditions.

Lyonsleaf also picked up Gold for their Body Butter in the Bodycare (Leave On) category. Their waterless balms and butters are a joy to use, so I'm not surprised that Vicky and Ben's products are being embraced with the same love as we have for them here at Sophia's Choice.

The lovely George from Bathing Beauty picked up Silver for her POP Effervescent Foot Tablets in the Hand, Nail and Footcare category. A further award to add to Bathing Beauty's collection. Both hubby and I have indulged in a foot soak or two using these beautifully scented foot tablets. They help remove rough, dry skin from your feet and prep them for Bathing Beauty's Sock Foot Balm.

Salt of the Earth won Silver for their Pure Aura Deodorant in the Fresh & Fragrant category. I'm a big fan of their deodorants and use this one myself. It's great to see their range getting recognition

Fairfield Gardens brought home Silver for their Orange Lip Balm. This lip balm is an absolute treat to use and it doesn't surprise me that it has won another award.

And last but by no means least is Gerlinde Naturals. Gerlinde has only recently launched her Rejuvenating Body Lotion,

and it has won its first award taking home Bronze in the Bodycare (Leave On) category. Such wonderful news.
To say I am proud is an understatement. As a small business myself, I know how much hard work goes into making things run smoothly. When you don't have a big team behind you helping to share the load, it can seem like a tall order to get your brand and products out there to a wider audience. So when they start winning awards and giving the bigger names a run for their money, it makes me smile. It also helps to raise awareness of some really great brands out there. We are very lucky indeed to have such a vast choice now.
Were any of you at the Love Organic Love Natural or The Allergy Show this year? What were your thoughts on the day and the award winners? I'll be waiting with excitement to see how many other new brands we'll see popping up in the SkinsMatter FreeFrom Awards 2016.