Sam Bowler - Sports Massage Therapist
Sam Bowler ITEC, MFHT




Sports Massage Therapist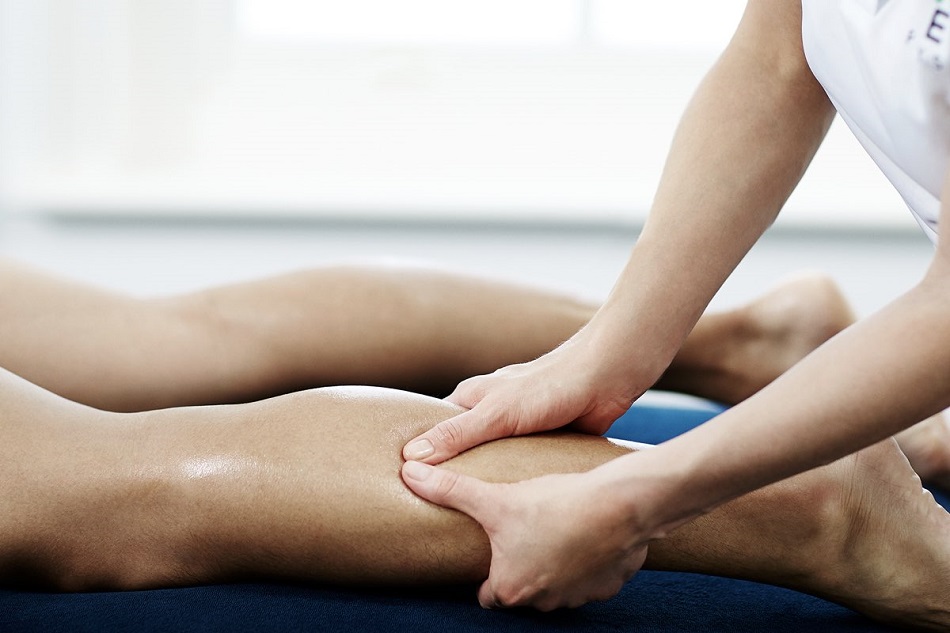 Sports Massage
Sports massage is a form of massage involving the manipulation of soft tissue. Soft tissue is connective tissue that has not hardened into bone and cartilage; it includes skin, muscles, tendons, ligaments and fascia.
Sports massage is designed to assist in correcting problems and imbalances in the soft tissue, commonly caused from repetitive or strenuous activity and trauma.
Sam uses a variety of techniques, massage tools and stretches to provide the best possible treatment.
Prices
| | |
| --- | --- |
| 60 Minute Treatment | £45.00 |
NB: All payments for treatments are made directly to Sam Bowler and are not taken by Sophia's Choice.
Pre & Post Event Massage
Help optimise your performance and reduce risk of injury with a pre event massage, up to 2 days before the big day.
Give your body a head start in the recovery process; reduce muscle tension & inflammation with a post event massage, any time from 30 minutes to 24 hour after event.
Prices
| | |
| --- | --- |
| Up to 20 minutes | £15.00 |

NB: All payments for treatments are made directly to Sam Bowler and are not taken by Sophia's Choice.
Kinesio Taping
A great way to remain active whilst injured. Sam uses RockTape for all her treatments; It's a premium kinesiology tape that has a tighter weave, greater elasticity and stronger adhesive. It's also Hypoallergenic.
Tape can last for around 5 days (depending on where it is on the body)
Prices
30 Minutes

£10.00 for 1 area

£5.00 for additional areas
​
NB: All payments for treatments are made directly to Sam Bowler and are not taken by Sophia's Choice.
What To Expect
Your First Appointment:
On your first visit there will be a 15-minute initial assessment, which will include medical history and physical assessment; this will allow me to perform the best treatment possible for you.
What to Wear:
Loose comfortable clothing is best, a loose pair of shorts for lower back/leg treatment works well.
Ladies, sports bras are not ideal if treating your neck/shoulders as they do not allow full access, whereas a normal bra does or vest is better.
The Assessment:
As noted above, if I am treating you for the first time, I am obliged to ask you a number of questions about your medical history and lifestyle before assessing and testing you physically – all information is given in confidence, all records are kept securely and every precaution will be made to ensure you are a suitable candidate for soft tissue therapy.
Once I have completed the administration, I will assess your posture and ranges of movement to gain more information as to any issues you may have.
The Treatment:
Likely to be a mixture of seated, standing and lying. Some techniques involve your participation to move limbs/parts of your body.
I will use either massage lotion or wax to lubricate your skin whilst massaging (I have allergen free oils available).
Pressure will be applied at a level that you feel comfortable with and throughout the treatment I will continue to check that pressure remains at a level you are happy with.
Post Treatment Advice:
Massage therapy can be powerful, and some individuals will react more strongly than others, so I would always advise you to do the following:
Drink plenty of water for at least 24 hours after your massage to flush out all toxins / muscle debris etc.

Use ice / cooling gel if appropriate or as instructed.

Be prepared to feel like your muscles have had a really good workout for up to 48 hours post treatment.
Consultation Days
Sam works from our dedicated treatment room every Friday.
To make an appointment, please contact Sam as follows:
| | |
| --- | --- |
| Telephone: | 07886 286392 |
| Email: | sb.sportsmassagetherapy@outlook.com |
or if you prefer, you can contact us here at Sophia's Choice to make your appointment:
| | |
| --- | --- |
| Telephone: | 01308 862586 |
| Email: | info@sophiaschoice.co.uk |
We respectfully ask that 24 hours notice is given if you cannot make your appointment time.
If less than 24 hours notice is given, then a charge will be made.
Missed appointments will incur a 100% consultation fee.
About Sam
I was first introduced to sports massage when I was 19, I had the opportunity to complete some work experience with Worcester Rugby club. From there, I knew this was something that I was not only good at, but something that I loved.

I am a qualified sports massage therapist, completing my qualification at The Cotswold Academy. As part of my dedication to sports therapy, I am always looking at new concepts, different techniques and regularly undergoing CPD training. This means I can give my clients the most up-to date treatments and information (and I love trying new gadgets!).

I attend local sporting events where I can offer pre & post event massages as well as Rock Tapping. This year I am lucky enough to be attending the London Marathon 2019, providing post event massage for Cancer Research UK Runners. After completing the London Marathon in 2016, I have first-hand experience of the pressure that marathon training can put on the body, so I am extremely thrilled to be part of the action this year, with-out having to run it!

I also work with Bridport Rugby Club and provide pre-match massage and sports tapping & strapping for the players, as well as being their pitch side first aider. There's always a great atmosphere and it's really encouraging to have their support.

From a fast paced pre-event massage, to long term treatment plans – the positive effects that sports massage can have, can be truly remarkable. Of course, it's not all about that one treatment –a big part of what I do involves looking at ways to introduce small changes into our lifestyle to encourage the improvements of the massage, to last. The benefits of sports massage are numerous: improved flexibility, reduced risk of injury and a boosted circulatory system, just to name a few

All of my treatments are completely bespoke – together we work on Treatment, Prevention and Improvement. Remember this isn't just for elite athletes – sports massage is designed to assist in correcting problems and imbalances in soft tissue that are caused from repetitive and strenuous activity, issues with posture, and trauma.

I am ITEC Qualified and fully insured and am a member of the FHT.

******

All the therapists who work out of our dedicated treatment room are fully qualified and insured.