Brand Interviews
The Beauty & the Brains Behind the Brand - Bloom Remedies

26 January 2015 | Charlie Hughes, Founder & Holistic Therapist
Today I'm sharing with you the third in our brand interview series, 'The Beauty and the Brains Behind the Brand'. I hope you've enjoyed finding out a little more about the brands we stock here at Sophia's Choice. I know I've found out things I never knew and it's lovely to bring you a touch closer to what makes a brand and its founder(s) tick.
So, who have I lined up for you today?
Well, this brand is based in the West Country in one of my favourite places. As a family we have made many fond holiday memories here over the past 4 years since our youngest daughter was 4 months old and it is one of Britain's beautiful gems. I am, of course talking about Cornwall.


With wide, open, sandy beaches and almost haunting scenery in places, Cornwall boasts an array of skilled artisans making some fabulous products.
One of those artisans is the lovely Marie Hall, founder of Bloom Remedies. Her range of certified organic skincare for the whole family drew me in from the start and my love for the range has grown the more products I've used.
Bloom Remedies organic skincare products smell amazing, feel wonderful to use, nourish the skin and are lovingly handmade in small batches. They've been well thought out and beautifully packaged.
I hope that after reading more you too will be eager to try these lovely handmade natural skincare products for yourself. Enjoy x
********
Bloom Remedies is about to embark on its third year of trading. Can you give us some background on where the journey first began?
Way back when I was a child I loved flowers, nature, the garden and was always making up 'potions' using the petals and leaves that I found when out playing. I began to become interested in essential oils while at university, using them therapeutically to deal with tiredness, concentration levels and for relaxation. I eventually went on to do an Essential Oil science diploma with Neals Yard Remedies, and further studying in product formulation. I have always had sensitive skin and had to be very careful about what I put on it, and began using natural only products 20 odd years ago when there really wasn't much choice. Thankfully the choice available to the consumer today is amazing!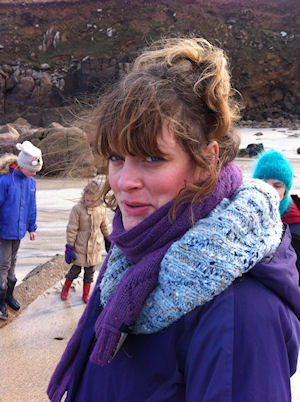 One of your passions has been bringing good quality, affordable organic skincare to the majority rather than the minority. Why has this been so important to you?
I absolutely hate the way that the mainstream cosmetics industry preys on women's insecurities – ageing is bad, youth is the ultimate goal – and big companies sell products that are often expensive, but full of cheap fillers and junk that women think that they 'need'. No woman needs to use products that are harsh, chemical and toxic. Every woman should be able to use quality natural skincare products that have had some serious thought put into the ingredients that are included. I wanted to bring a range to the public that was natural, and affordable but also high quality because this should be every woman's right. Organic and natural inclusivity, not exclusivity.
You can tell by the blends of essential oils and the certified organic ingredients you use, that you think long and hard about the formulations you create. Is blending, testing and formulating one of the best parts of what you do?
Absolutely! My blends and the formulating process are often my favourite part of my job. I include lots of other natural ingredients besides essential oils – herbal antioxidant extracts like Seabuckthorn for example – but my core passion, and training is in essential oils so I love putting together blends using them that work synergistically and also smell divine!
When you began Bloom Remedies (affectionately referred to as Bloom) in 2012, you launched with a full range of approximately 30 products. This is quite some feat. Was it purposeful?
Yes, I didn't want to start with a minimal range – I wanted the full range, for all the family. I feared that once the business started we'd be swept along in the momentum of the day to day running of a business, and it would be difficult to go back and grow the range. So we spent around two years in the formulating, labelling, and 'red tape' stage before launch.

You have recently returned to your aromatherapy roots by creating 3 therapeutic ranges; Serenity Slumber, Deep Release and Clear Vitality. You have added new products within these ranges. Can you explain more?
Ah my favourites. These ranges are more about health & mood, and using essential oils therapeutically to boost these areas of your life.
All 3 ranges contain products that can be used during bathing, and after bathing to soften the skin and boost the body and mind.
Serenity Slumber contains a range of mood relaxing, mildly sedative and stress relieving essential oils including Ylang Ylang, Geranium, Lavender, Patchouli, Cedarwood and Sweet Orange. The scent it floral but not too sweet with lovely rich base notes thanks to the cedarwood and patchouli - and it is deeply grounding. Great for overactive minds that can't switch off.
Clear Vitality is my favourite for this time of year – it's an energising, immune boosting and bacteria busting blend, great for deplete bodies, snotty noses and worn out minds. It contains essential oils that help decongest the respiratory system and fight off coughs and colds, including Eucalyptus, Tea Tree, Peppermint, Rosemary and the potent antimicrobial Ravensara.
Our Deep Release blend is invigorating, warming and uplifting and contains oils that raise the spirits, warm the body and help ease muscular aches and pains. I particularly love using the body oil after a workout as it contains Plai one of the best muscular anti-inflammatory oils around. The blends also contains ache relieving Ginger, Lemongrass, Lime, and Rosemary
In the coming year can we expect to see more products being added to the current Bloom collection?
Not sure as yet, we've various things in the pipeline and I'm constantly asked about various additions that people would like to see but our range is pretty extensive as it stands – especially given that I still make each and every product by hand.
What would you say sets Bloom Remedies apart from other natural, organic skincare brands out there?
Our brand ethos is to be priced in an inclusive, rather than exclusive way without compromising on ingredient complexity, product formulation or quality. Not only do we not compromise on the products themselves, but we also pay great attention to detail to the packaging. You feel as though you are getting an artisan bespoke product, without paying a huge premium. And the customer feedback we get is really appreciative of this.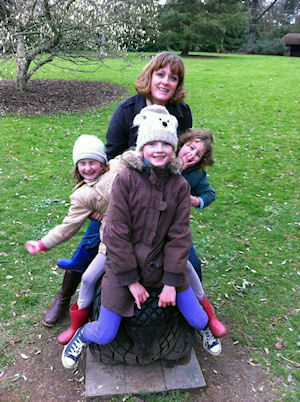 Like many of us, you are a mother and juggle a small business with the demands of 3 children. How do you manage to create that work-life balance?
With a huge amount of difficulty, but an iron will to force myself to take time when it's needed. I have 3 girls, aged 12 to 6 and they are so much fun and so energising and they do inspire me to do well in the business and provide them with a great role model. I sometimes get too immersed in work I'm sure, but at the end of the day my family is, and always will be, the most important thing to me. This year I've thankfully had more help thanks to a growing team so the pressure is getting easier rather than harder and I seem to be able to anticipate when things are going to get really busy and take proactive rather than reactive measures.
What do you do to relax and unwind after a long day at Bloom?
Sleep, read, watch TV, have a glass of wine, chat with my husband, cuddle my kids and cats.
And lastly, as someone who has taken her passion and made it into a successful business, what advice would you give to others thinking of doing the same?
You will work hard, harder than you've ever worked, and you will often waver and wonder if you've done the right thing. Stick at it, believe in fate, keep kind (to yourself and others) and trust your instincts.
********
You can browse our range of Bloom Remedies products here: www.sophiaschoice.co.uk/bloom-remedies.html