Brand Interviews
The Beauty & the Brains Behind the Brand - Bodhi & Birch

2 August 2014 | Charlie Hughes, Founder & Holistic Therapist
This is the second in our new series of interviews with the lovely brands we stock here at Sophia's Choice, called 'The Beauty & the Brains Behind the Brand',
Today's offering is from the fabulous Elijah Choo, founder of eco-luxury brand, Bodhi & Birch.
Bodhi & Birch are truly unique. I'm constantly in awe of the amazing therapeutic benefits Elijah's products lovingly give to the user. Each one manages to envelop you, caress you, with it's amazing aromas and skin nurturing properties which in turn create a truly indulgent encounter. It is without doubt a mind body experience.
Elijah is a man who's passion for what he does oozes from every pore. Just talking to him, you are under no illusion that this man cares deeply about the products he creates and what these can give to you, the consumer.
So, grab yourself a cuppa or perhaps a glass of wine, put your feet up and read on to find out more about the brand I've come to love; Bodhi & Birch.
********
From what I know and have read about you, it's evident that you've always had a deep love of nature, wellbeing and food, gathered from your experiences of other cultures as a child and beyond. Do you therefore believe it was your probable destiny that one day you would pool all this knowledge, love and passion into what has today become Bodhi & Birch?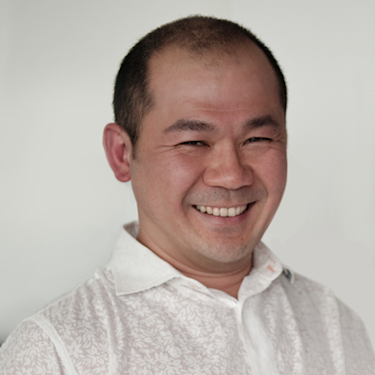 I loved my childhood. It is filled with fond memories and as far as I can remember, I would either be running around collecting leaves, seeds and flowers, chasing after a bug or butterfly or climbing into the canopy of trees picking fruit. This would have somehow formed the basis of my interest in nature, as I often seek out eco-escapes and adventures whenever I am away on holiday.
Wellbeing and food goes intrinsically hand in hand in a South-East Asian Chinese household. It is ingrained in me that food contains the life-force to help balance and nourish life. It is also through this that I've grown to understand the Eastern philosophy of "feeding" the body and soul so that it heals your wellbeing.
Never in my dreams have I thought I would be drawing inspiration and know-how from the love I surround myself with to create what is Bodhi & Birch. Perhaps it is destiny.
Bodhi & Birch began life over 3 years ago as Bodhi and has built up a loyal following in that time. What made you decide that now was the right time to re-brand in May of this year?
Bodhi started with the best of intentions to become what it is today. It is an organic progression as you never really know where it may take you. You guide and nurture the brand as best as you can and somewhere along that journey, it needs that little spurt of growth to take it to the next level. Bodhi & Birch reflects this growth and maturity. It is Bodhi Phase Two.
Bodhi may be an exotic word in the UK. It is in Sankrit, meaning "enlightenment". Rebranded as Bodhi & Birch, it helps to focus and redefine the brand message of bringing together Eastern and Western skincare and wellbeing philosophies, it allows us to fine tune our packaging and last but not least helps future-proof the brand.
Your skincare range is so much more than that. It is a mind-body experience. Was it always your intention to use high ratios of active botanicals and essential oils in your formulations to create a therapeutic range of products which would notably change the user's mood and wellbeing?
Yes, that has always been the idea behind each and every product we've produced. It's never just skincare; it has to boost the mood, spread positivity and peak your curiosity with its scent or texture. As we continue to speed towards the future, we lose more time to switch off and indulge in moments of solace and adventure, of discovery and retreat. Each Bodhi & Birch product takes you on a journey of indulgent escapism, from its exotic ingredients to the therapeutic effects on the senses. Hopefully, through all that, even in some small little way, it makes each person a little happier.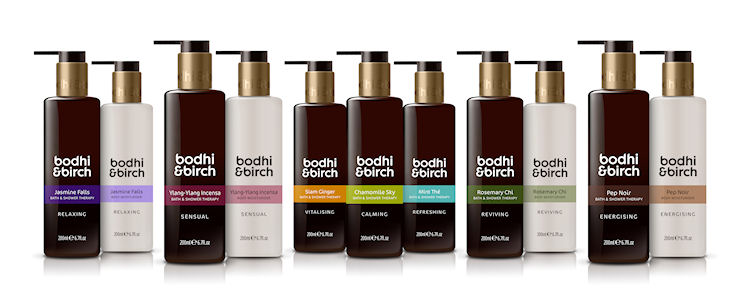 I have yet to find one person who has tried one of your products and not gone back for more. The term 'skincare alchemist' springs to mind. How does it make you feel knowing that there is such love out there for the products you have formulated and made?
I have to admit I am quite baffled by your 'skincare alchemist' term! It is an honour for you to think so and of course it's quite a compliment. It was a conscious decision to steer clear of creating "nice" products. "Nice" is ok, but ok is just alright. If I'm not intrigued or excited about it, the product doesn't make it to launch. Each creation has to produce a reaction. And I hope it is this reaction that makes people curious for more.
Whenever I receive a tweet or come across a comment about Bodhi & Birch, it always fills me with pride, knowing it has made someone's day. It's a good feeling and I am very grateful for it.
One of the things that strikes me most about you, is the generosity and kindness you show to your customers. Do you believe that caring about and being accessible to our customers is an important part of what we as modern businesses need to be focussing on, particularly as we now live in a more virtual, online world?
As a niche brand, we aim to set ourselves apart by providing the best care and attention to customers' requests. Why else would you go back to a retail shop or online store unless you've experienced good service. Modern technology should help and not hinder customers' shopping experience. With businesses increasingly online, customers may lose that human connection. Thus it is undoubtedly important that accessibility to an understanding and patient voice, be it through email or social media, be readily available.
There are a huge number of natural and organic skincare brands popping up all the time now. What would you say makes Bodhi & Birch different and sets you apart from others?
Every brand and their founders have a story to tell. This helps create a variety and range of products, each with its own unique result.
I am the catalyst for every Bodhi & Birch creation; from product formulation to scent inspiration, from its name origination to design development. Bodhi & Birch is my story, and as such, it is unique. Often inspired by key ingredients or a sensory journey, we develop, create, formulate and produce our own products always making sure each is individual and distinct, with its own story to tell.
Over the years, Bodhi & Birch has established a reputation for high performance natural skincare with signature aromatherapeutic scents, formulated without compromise on quality of ingredients, and all this with minimal impact on the environment.
Where would you love to see Bodhi & Birch headed in the future and are there any exciting developments we can expect to see?
There are many plans and developments still under wraps. Currently we are working hard to get our products into spas, treatment rooms and in front of therapists, facialists and make-up artists.
With the rebrand and relaunch of our bath & body care range, we have introduced the new Camomile Sky Bath & Shower Therapy. It's a sweet floral blend of delicate Camomile, sugared Hyacinth and blushed Geranium with a soft powdery base of warm honeyed woods.
We are also launching Rosa Rosa skincare for normal to dry skin types. The range consists of the Clarifying Cleanser, Hydrating Toner and Daily Moisturiser. Rosa Rosa means blush rose and it features a blend of ingredients including rose, orange blossom and camomile. I'm particularly excited about this and it will be interesting to see what everyone thinks of it.
I have one last question for you; as you know, it can often feel daunting and overwhelming when you decide to go it alone and follow your dreams. What would be the one piece of advice you would give anyone who wanted to follow their passion?
It was a huge step for me, one which seemed daunting at the beginning but like any other journey in life, begins with the first step. For those who seek to follow their dreams, just remember you only have one lifetime to make it happen; if not now, then when?
********
Sadly, Bodhi & Birch closed their doors in March 2023. This means that we no longer stock their range.